Frequently Asked Questions (FAQ)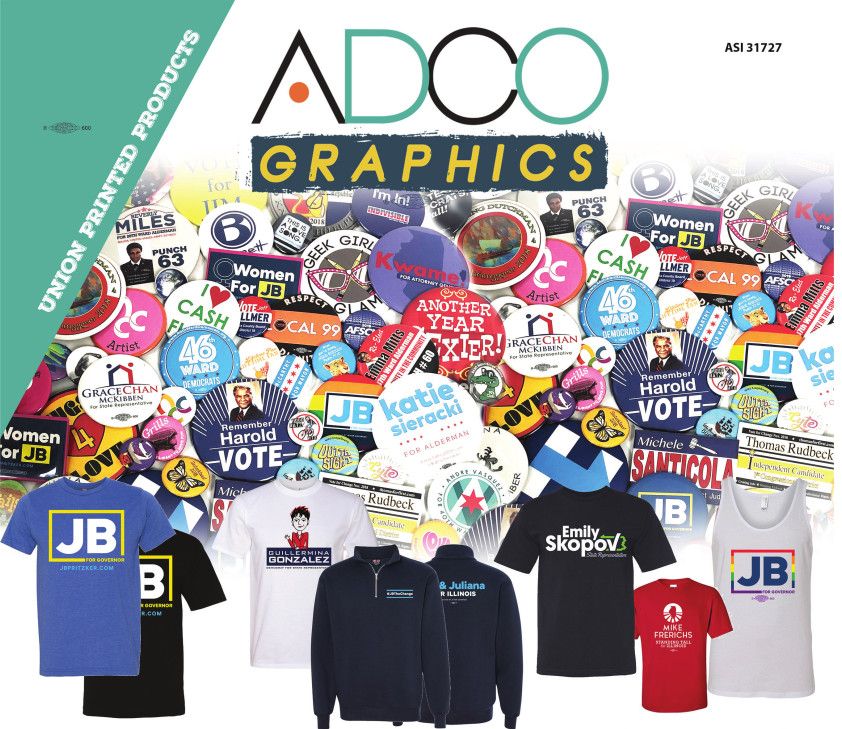 Important Ordering Information
This information is necessary so we can properly enter your order and schedule it for production.
Doing business with ADCO is easy

1. Determine product.
2. Item number, size, and shape.
3. Quantity.
4. Colors: Imprint and background.
5. Requested ship date.
6. Shipping: U.P.S. is preferred. Please
advise if other is requested.

Terms

All orders are prepay. Other payment terms subject to qualification and applicable credit references.

Prices

Prices quoted F.O.B. factory and subject to change without notice.

Shortages and Overs

Exact manufactured quantities cannot be guaranteed. Shortages or overruns, not exceeding 5 percent, will be shipped and billed at pro-rata prices.

Patents and Copyrights

The customer
assumes full responsibility for all claims
and/or litigation arising from alleged
infringement of licenses, patents or
copyrights on any requested design or
copy

Orders

Verbal orders are welcome but must be confirmed in writing. Customer assumes liability for any errors on verbal order when written conformation is not received prior to production. Fax transmitted art or logos are not usable art. Any additional art charges will be billed at the prevailing current rate of 150.00 per hour.

Cancellation Charges

Any order that is cancelled after production has begun will be billed accordingly.

Union Label

Our products are manufactured by members of the Allied Printing Trades Council of Chicago License Number 600. Union label is available on all products at no extra charge.

Shipping

All orders are shipped UPS or common carrier if not other wise specified. Every effort is made to ship on the date and by the means requested. However, factory reserves the right to ship by whatever means available to deliver the goods by the date shown on the purchase order. First consideration is given to speed and reliability and not to transportation cost. Delivery liability with factory ends when merchandise is delivered to a freight carrier. If, for what ever reason, the carrier fails to make timely delivery, the distributor still has liability to factory. Returns must be authorized or will not be accepted. Please place any claim within 10 days of delivery date.

F.O.B. Point: Factory.
Important Artwork and File Information
All e-mailed artwork must have the subject line specifying the customer and with P.O. Number references.

All copy, images, and product dimensions must be 100 percent (actual)
size and ready for output — per factory specifications.

Usable artwork is "camera ready," vector graphics, with packaged fonts.

All linked files must be supplied and in EPS or TIFF format. PDF files are also acceptable.

All printer and screen fonts used must be included along with the
artwork submission. If fonts cannot be supplied, all type must be converted to paths.

PMS spot colors will not be converted to CMYK unless they are part of a submitted 4-color process job.

All Photoshop linked files must be a minimum of 300 dpi and saved in EPS or TIFF format in CMYK mode.

Multi-colored laser printed proofs and/or paper separations, if multicolored, must accompany the submitted artwork. These are for reference only. Digital proofs, if provided by factory, and part of the order, may or may not match laser printed copies provided by customer. This is due to dissimilar printing processes.

All colors must be trapped to a minimum of .5 point. All image bleeds must extend a minimum of 1/8 inch beyond cut lines.

All specifications must be met and verified by the factory before final submission of computer generated artwork.

Unsuitable artwork is subject to a minimum one hour art charge ($150). Customer will be notified if additional time is needed for corrections or if new artwork has to be submitted. In this instance, the factory will choose the most cost effective method.

Unsuitable artwork normally delays production 1 to 5 days based on how much time is required to bring artwork to specs.
How do I get an estimate from you?
Simply use our online estimate request form by clicking here. Otherwise, the best way to ensure we get all the information necessary to make an accurate quote is to call and speak with one of our customer service representatives.
How long will it take for you to complete my order?
Every job is different. Some jobs can be produced in minutes while some may take several days to complete. Let us know when you need your job completed and we'll let you know if it can be done. We go to great lengths to meet even your most demanding timelines.
How well will what I see on my monitor match what I see on paper?
The technology of design, layout, and printing has come a long way. However, there are sometimes noticeable differences in color calibration and spatial conformity from monitor to monitor and consequently from screen to print.
The process for minimizing any variance begins with adjusting your monitor for optimal color and clarity according to the manufacturer's recommendations as outlined within its product manual or website. Doing this will alleviate a number of potential issues.
What is a proof and why is it needed?
A proof is a one-off copy of your printed document used for visual inspection to ensure the layout and colors of your document are exactly how they are intended. A proof is made prior to sending the document to the press for final printing.
We will produce a digital proof in PDF format or on printed paper, which can be either viewed in our store or shipped to you in person. For multiple-color jobs, we can produce a proof on our output device to show you how the different colors will appear on the final product.
Your approval on the final proof is the best assurance you have that every aspect of our work and your own is correct, and that everything reads and appears the way you intended. Mistakes can and sometimes do happen. It benefits everyone if errors are caught in the proofing process rather than after the job is completed and delivered.
What does "camera ready" mean?
In the digital age of printing, it means that an image file submitted for printing is ready to be transferred to the printing plates without any alterations.
What is color separation?
Color separation is the process of separating a colored graphic or photograph into its primary color components in preparation for printed reproduction. For example, to print a full color photo with an offset printing press, we would create four separate printing plates each accounting for one of the four basic printing inks (cyan, magenta, yellow, and black) needed to reproduce the image.
As the paper is fed through the press, each single-color plate puts onto the paper the exact amount of ink needed at exactly the right spot. As the different colored wet inks are applied, they blend together to create the rich and infinite pallet of complex colors needed to reproduce the original image.
What is halftone printing?
Halftone printing converts a continuous tone (solid areas of black or color) photograph or image into a pattern of different size dots that simulate continuous tone. When examining the page closely, you will see a series of dots spaced slightly apart. At a normal viewing distance, however, the spacing between dots becomes essentially invisible to the eye and what you see is a continuous tone.
What are Pantone colors?
Pantone colors refer to the Pantone Matching System (PMS), a color matching system used by the printing industry whereby printing colors are identified by a unique name or number (as opposed to just a visual reference). This ensures that colors turn out the same from system to system, and print run to print run.
Other Terms and Conditions
Time of Production: 3-5 business days following proof approval. Proofs are provided following formal purchase order submission.
Rush Service is available following factory approval. Additional charges will apply. Contact factory for charges.
Phone orders are not accepted.
Shipments: UPS Ground unless customer designates alternative carrier. No deliveries to PO boxes are allowed.
Shipping by other carriers is available upon mutual agreement between the factory and the customer.
Drop Shipments are provided at a charge of $8.00 (P) per address.
Less than minimum orders are charged at the first column prices.
Please request Special Quotes in writing when not following catalog pricing.
Order Cancellation and Modification: Changes or cancellations of orders are subject to a prorated charge dependent on the production status of an order. Minimum charges, if necessary will be $60 (P).
Overruns and Underruns: 5% order overruns or underruns will be considered complete even though every effort is made to ship exact quantities.
Returns and Corrections: Notification of return requests or corrections must be made in writing within 7 days of receipt of completed orders. Factory must agree to and authorize all return or correction notifications.
Trademarks: All art and graphics must be in total compliance with all governmental copyright, trademark, and patent laws. The purchaser is responsible for proper order execution.
ADCO Graphics is not responsible for any potential repercussions arising from improper order disposition.
Customer supplied printing: Customer must contact factory prior to submitting printed matter for button capping. All parameters must be agreed to and complied with prior to factory acceptance of customer's printing. Contact factory for pricing.
Production is dependent upon the availability of goods provided by the ADCO Graphics suppliers.
Terms:
All orders must be paid in advance. Terms are available following approval with full payment due in 30 days. Prior to approval, orders must be paid for in full with purchase order submission.
Shipping: All prices are F.O.B. Chicago, Illinois
All pricing, terms, and conditions listed in this catalog are subject to change without notice. Our offer of services does not imply any guarantees, warranties, or promises.
Do you have other questions?