Welcome to ADCO Graphics: Your Union Printer and Sign Company
4x8 Economy Screen Printed Yard Signs
---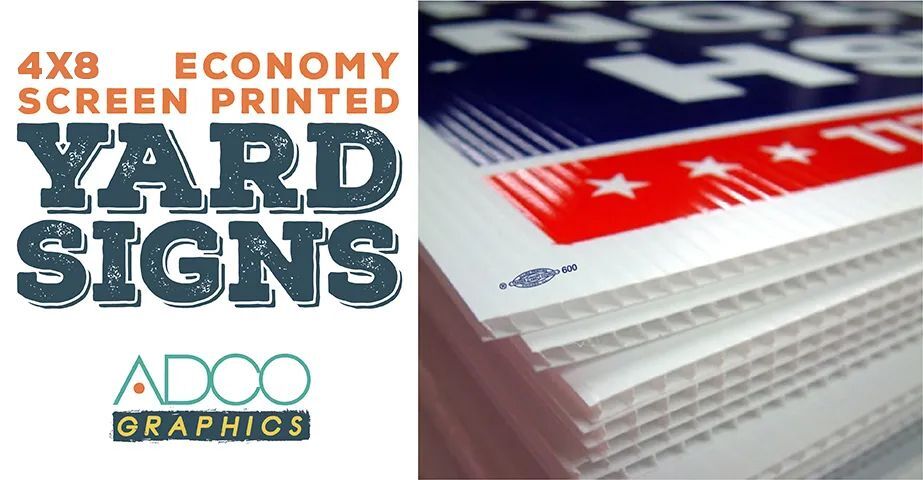 Union Printed Political 4x8 Corrugated Yard Signs
Looking for high-quality 4x8 corrugated yard signs that make a bold statement? Look no further than ADCO Graphics! As a trusted union printer and sign company, we specialize in delivering top-notch printing solutions for both union and political campaigns. With our expertise and commitment to excellence, we ensure your message stands out and resonates with your audience. Discover the power of our corrugated yard signs today and make an impactful impression!
Key Features of our 4x8 Corrugated Yard Signs:
Eye-catching and Durable: Our corrugated yard signs are designed to grab attention and withstand the elements. Made from sturdy materials, they can brave any weather conditions, ensuring your message remains intact and visible.
Customizable for Your Needs: At ADCO Graphics, we understand the importance of tailored communication. That's why our 4x8 yard signs are fully customizable, allowing you to showcase your unique brand, campaign, or union message. From vibrant colors to engaging designs, we bring your vision to life.
Expert Union and Political Printing: With years of experience in union and political printing, we have the knowledge and expertise to create impactful signs that amplify your message. Our team is dedicated to supporting your cause and helping you make a lasting impression in your community.
Choose ADCO Graphics for your 4x8 corrugated yard signs and experience the difference. We are your go-to union sign maker, providing top-quality printing solutions that make a statement. Call (312) 280-6200 today and let's create signage that truly represents your cause or campaign!
4x8 Yard Sign Pricing
| | 1C - 1S | 1C - 2S | 2C - 1S | 2C - 2S |
| --- | --- | --- | --- | --- |
| 25 | 30.00 | 38.00 | 42.00 | 56.00 |
| 50 | 25.00 | 32.00 | 36.00 | 44.00 |
| 100 | 23.00 | 30.00 | 32.00 | 38.00 |
| 250 | 21.00 | 26.00 | 28.00 | 34.00 |
Wire H-Frames sold separately, Call (312) 280-6200 for details.
Order 4x8 Corrugated Yard Signs Today!
Don't miss out on the opportunity to showcase your message with impactful, union-made yard signs. ADCO Graphics is committed to delivering high-quality products and exceptional customer service. Contact us today to discuss your requirements and let our team bring your vision to life.
Request Union Printed Yard Sign Information