Welcome to ADCO Graphics: Your Union Printer and Sign Company
18x24 Economy Screen Printed Yard Signs
---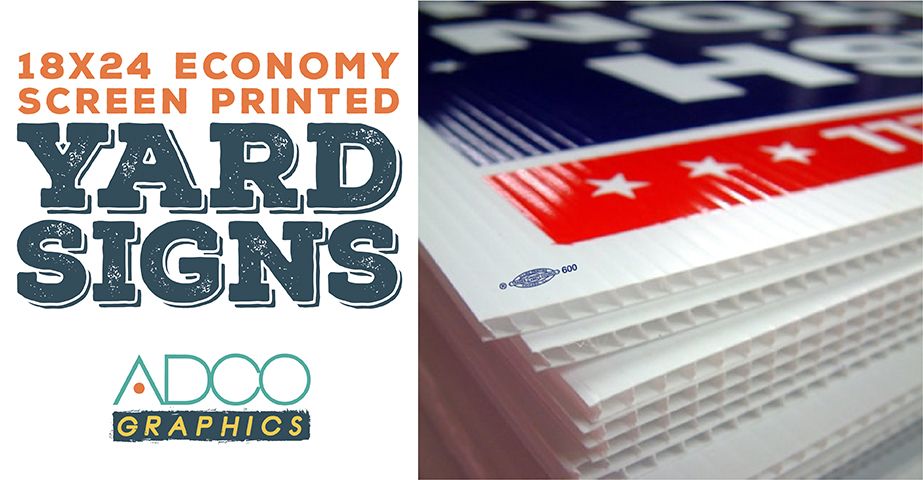 Union Printed Political Yard Signs
Need high-quality yard signs to make a lasting impression? Look no further than ADCO Graphics, your premier union sign maker specializing in 18x24 corrugated yard signs. Whether you're running a political campaign, advocating for a cause, or promoting your business, our top-of-the-line lawn signs are designed to attract attention and leave a lasting impact.
Why Choose ADCO Graphics for Yard Signs?
Unparalleled Expertise in Union and Political Printing: With years of experience in the industry, we understand the unique requirements and standards set by unions and political campaigns. Our dedicated team of professionals ensures that every sign we produce reflects your values, vision, and message accurately.
Superior Quality and Durability: Our 18x24 corrugated yard signs are crafted using premium materials, making them sturdy enough to withstand various weather conditions. Rest assured that your signs will remain intact and vibrant, even when exposed to rain, wind, or sunlight.
Customization: At ADCO Graphics, we understand that each project is unique. That's why we offer a range of customization options, including color schemes, fonts, logos, and slogans. With our extensive customization capabilities, your yard signs will reflect your identity and convey your desired message flawlessly.
Prompt Turnaround: We value your time and understand the importance of meeting deadlines. Our streamlined production process ensures that your 18x24 corrugated yard signs are printed and delivered to you in a timely manner.
18x24 Yard Sign Pricing
| | 1C - 2S | 2C - 2S |
| --- | --- | --- |
| 50 | 4.00 | 6.50 |
| 100 | 3.50 | 4.50 |
| 250 | 3.00 | 4.00 |
| 500 | 2.50 | 3.50 |
| 1000 | 2.30 | 2.60 |
Wire H-Frames sold separately, Call (312) 280-6200 for details.
Order 18x24 Corrugated Yard Signs Today!
Don't miss out on the opportunity to showcase your message with impactful, union-made yard signs. ADCO Graphics is committed to delivering high-quality products and exceptional customer service. Contact us today to discuss your requirements and let our team bring your vision to life.
Request Union Printed Yard Sign Information