Welcome to ADCO Graphics: Your Union Printer and Sign Company
24x48 Economy Screen Printed Yard Signs
---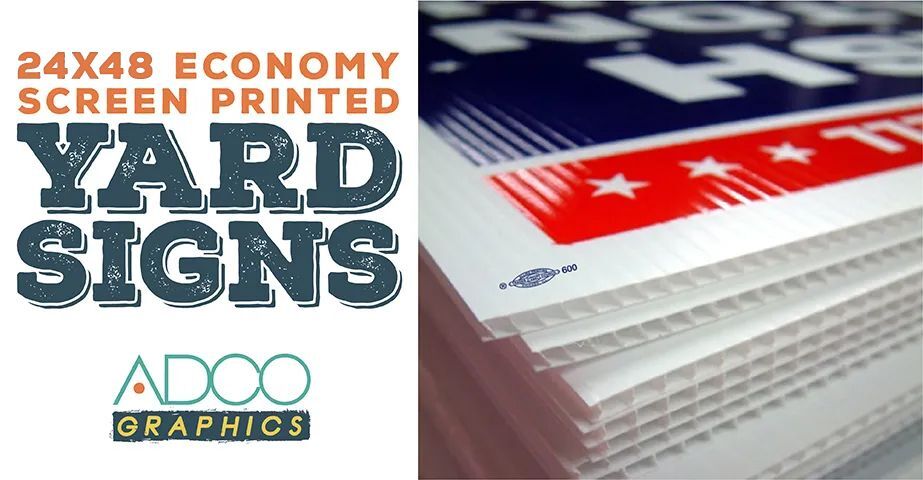 Union Printed Political Corrugated Yard Signs
If you're looking for top-quality 24x48 corrugated yard signs, you've come to the right place. Our expertise lies in delivering exceptional union and political printing solutions.
Capture attention and make a statement with our durable 24x48 yard signs. Crafted from high-quality corrugated material, these signs are built to withstand the elements while effectively conveying your message. Whether you're promoting a political campaign, supporting a cause, or showcasing your union, our yard signs are designed to leave a lasting impression.
At ADCO Graphics, we take pride in our role as a union sign maker. We understand the importance of your message and are committed to delivering superior results that reflect your values. Our team of skilled professionals works closely with you to bring your vision to life, ensuring that your 24x48 yard signs represent your cause with precision and impact.
By choosing our lawn signs, you're not only investing in a quality product but also supporting fair labor practices. As a union printer, we prioritize ethical production methods and uphold the principles of worker empowerment. With ADCO Graphics, you can be confident that your signs are produced with integrity and respect.
Stand out from the crowd and make a strong statement with our 24x48 corrugated yard signs. Trust ADCO Graphics, your reliable partner in union and political printing. Call (312) 280-6200 today to discover how our exceptional sign solutions can elevate your message and make a meaningful impact.
24x48 Yard Sign Pricing
| | 1C - 2S | 2C - 2S |
| --- | --- | --- |
| 50 | 10.00 | 14.00 |
| 100 | 8.00 | 12.00 |
| 250 | 7.50 | 11.00 |
| 500 | 7.00 | 10.00 |
| 1000 | 6.00 | 7.00 |
Wire H-Frames sold separately, Call (312) 280-6200 for details.
Order 24x48 Corrugated Yard Signs Today!
Don't miss out on the opportunity to showcase your message with impactful, union-made yard signs. ADCO Graphics is committed to delivering high-quality products and exceptional customer service. Contact us today to discuss your requirements and let our team bring your vision to life.
Request Union Printed Yard Sign Information