Welcome to ADCO Graphics: Your Union Printer and Sign Company
24x36 Economy Screen Printed Yard Signs
---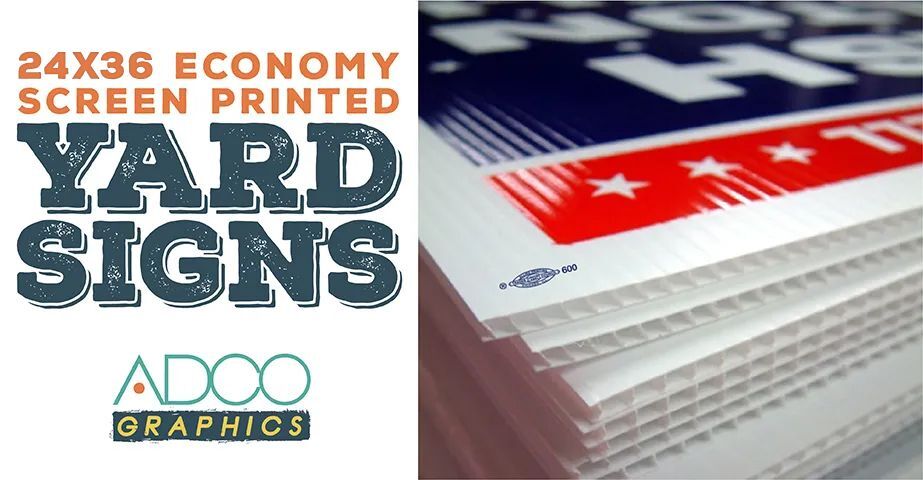 Union Printed Political Yard Signs
Welcome to ADCO Graphics, your premier union printer and sign company! We specialize in producing top-quality 24x36 corrugated yard signs for all your political and union printing needs. Our lawn signs are durable and eye-catching, perfect for making a strong statement.
At ADCO Graphics, we understand the importance of effective signage in conveying your message. Whether you're running a political campaign or advocating for a union cause, our 24x36 yard signs are designed to capture attention and leave a lasting impression.
With our expertise in union and political printing, we ensure that your yard signs reflect your values and intentions. We take pride in being a trusted union sign maker, delivering products that resonate with your target audience.
Choose ADCO Graphics for your 24x36 yard sign needs, and experience the difference our corrugated signs can make. Get noticed, make an impact, and leave a lasting impression with our high-quality, union-made signs.
Call (312) 280-6200 today to discuss your requirements and let us help you effectively communicate your message through our exceptional yard signs. Trust ADCO Graphics for all your union and political printing needs.
24x36 Yard Sign Pricing
| | 1C - 2S | 2C - 2S |
| --- | --- | --- |
| 50 | 8.50 | 12.00 |
| 100 | 6.50 | 9.00 |
| 250 | 5.50 | 7.50 |
| 500 | 4.50 | 6.50 |
| 1000 | 4.25 | 4.75 |
Wire H-Frames sold separately, Call (312) 280-6200 for details.
Order 24x36 Corrugated Yard Signs Today!
Don't miss out on the opportunity to showcase your message with impactful, union-made yard signs. ADCO Graphics is committed to delivering high-quality products and exceptional customer service. Contact us today to discuss your requirements and let our team bring your vision to life.
Request Union Printed Yard Sign Information